So you want to be a Carter Fellow?
What I wish I knew before applying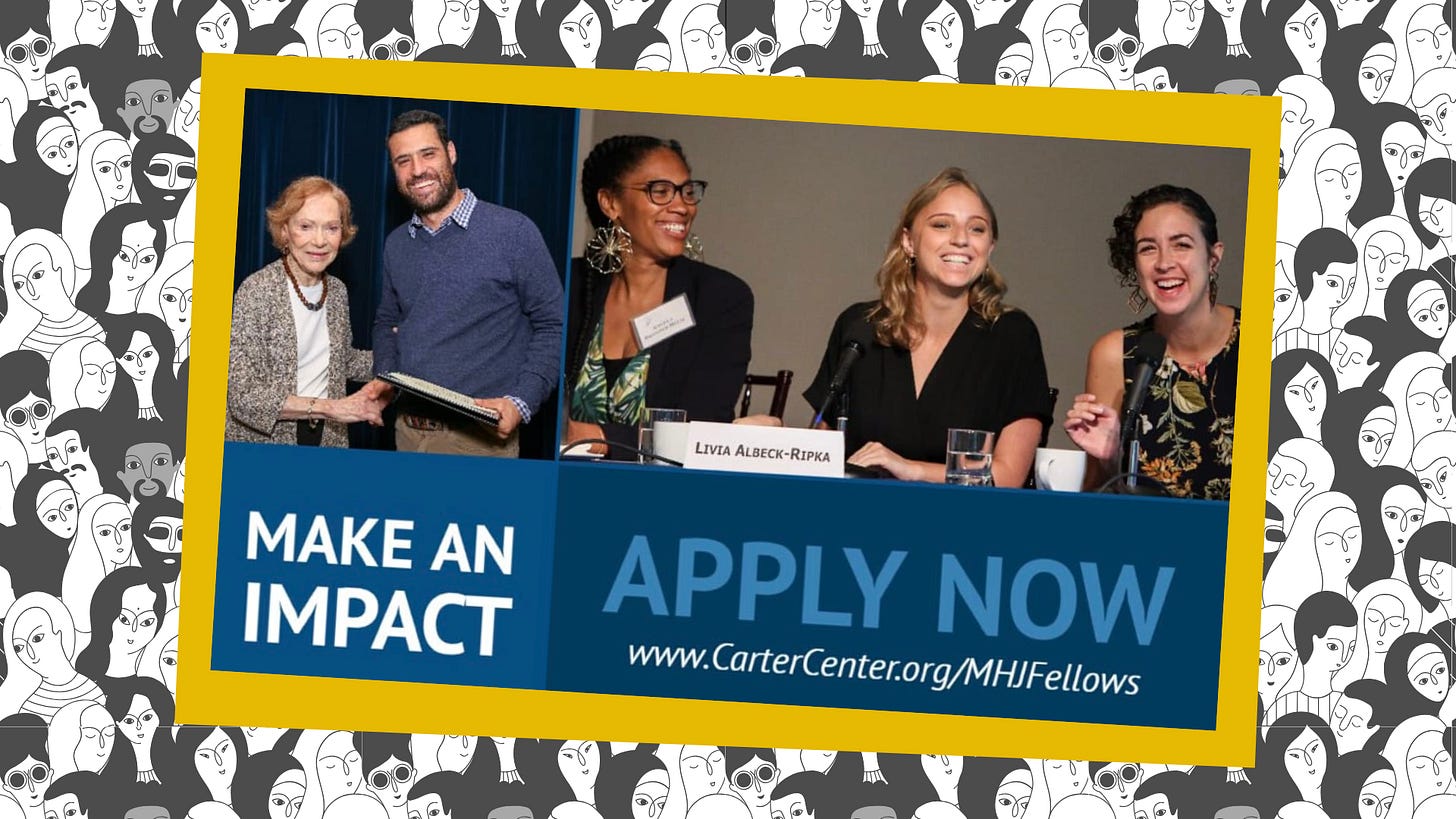 Hey, friends! As I mentioned in this week's Monday Matter roundup, lots of you have reached out via social media or email to learn a little bit more about the Rosalynn Carter Fellowships for Mental Health Journalism applications, which are now due Wednesday, April 29. Foreign Bodies, for anyone who doesn't know, was born through the program.
Since a good chunk of you are mental health reporters or members of the writing/publishing industry, I figured it would be beneficial to do a quick post on the program. Disclaimer: Please don't fully rely on me. Use the many, many resources listed directly from The Carter Center!
Also, if this post doesn't apply to you, share it with someone who might be interested?
What exactly is a Carter Fellow?
Carter Fellows—or Fellas, as former first lady Rosalynn Carter calls us—are past and present recipients of the Rosalynn Carter Fellowships for Mental Health Journalism.
About The Carter Center's Mental Health Program
For anyone who might not know much about The Carter Center, I recommend reading about the work both former President Jimmy Carter and former first lady Rosalynn Carter have done, especially when it comes to the Center's role in mental health care and stigma reduction. The Mental Health Program is a significant part of Mrs. Carter's legacy. Its work has been instrumental in improving public policy, reducing stigma and creating/sustaining health care systems for people living with mental health or substance use conditions locally, nationally and internationally.
What is this fellowship all about?
The fellowships are part of the Mental Health Program's international effort to reduce stigma and discrimination. Recipients are awarded $10,000 stipends and invaluable training to report on topics related to mental health and substance use issues. According to the official site, since the MHJ fellowships were established in 1996, fellows have produced more than 1,500 mental health-related stories, documentaries, books, and other works during and after their fellowship year. One in seven domestic and international fellows report that their fellowship project resulted in changes to local, state and/or national behavioral health policies or programs. 
The basics (from the
FAQs
page)
Who's eligible?
Citizens or residents of the United States + citizens or legal residents of countries in Latin America, Qatar or United Arab Emirates (separate international application here)

Gotta have at least three years of experience as a journalist or working directly in journalism. Blogging, academic writing, and public relations don't count. No, you don't need to have experience in mental health.
Fellowship highlights
$10,000 stipend

Flexible; no relocation

Incredible lifelong cohort

Access to top experts in both media and mental health

Training and networking opportunities

Will likely help you become a go-to for ethical mental health reporting

Chance to work within The Carter Center world
~OK now for unofficial queries and tips~
What was the experience REALLY like?
What should you pitch?
Pitch a subject you're genuinely curious about, a topic that hasn't yet been addressed the way you feel it deserves to be addressed. And think about format. Are you hoping to write a memoir? A few stories for your paper? Do you want to produce a podcast or documentary? Something else entirely?
For inspo, browse through this database of published works produced by MHJ fellows. It's crucial to know what's already out there on the subject you're interested in.
What else to consider re: pitch
As you settle on a topic to pitch, some questions to ask or things to remember:
How accessible is the population you're hoping to cover? It was very, very difficult for me to get immigrants talking about their mental health, especially if our conversations had potential for publication. Even when young immigrants were comfortable sharing their own experiences, they were often hesitant to publicize it due to family stigma. One of the many reasons Foreign Bodies exists!

How realistic is it for you to reach tangible reporting goals within one year? No, really. If you know this year's going to be hella chaotic, wait a year so you can give it your all.

If you're employed within a newsroom, how supportive is leadership, really? What do you foresee being potential roadblocks as you work on your fellowship project? Some fellows are able to work on their projects during their regular work hours with involved, collaborative editors, a privilege I personally didn't have as an employee with several other commitments. This proved especially challenging for me and changed the trajectory of my experience, which you can read more about here. I'd recommend speaking with leadership (including your direct manager) about what they'll be able to offer re: time/realtime support.

If you're worried about not having ample newsroom support or are a freelance writer, don't let this get in the way of your applying! There are plenty of people involved in the fellowship program who can help with editing and brainstorming as you work on your project throughout the year. I'll be bugging them soon. You may also want to get familiar with local freelance writer groups, both IRL and online. Gotta be able to commit the time, though. Even if it's outside of the office.
Even more pitch-writing tips
Think specific. My topic was far too broad (de-stigmatizing mental illness among immigrants and refugees) and though this challenge led to my creating Foreign Bodies, it might be helpful to narrow your topic down to ensure you have more tangible, concrete plans. I initially pitched 1-2 stories on immigrant mental health for my newspaper, and I've yet to publish them. The plan was to write a general explainer with an anecdotal lede and subject, but considering how diverse this population is, the varying factors involved in mental health stigma and how I just don't believe a single news explainer or print feature will get to the audience I need this to get to—immigrants—I'm still trying to pinpoint a more viable angle. Though my year's technically over, I'm hoping to publish a feature on the city of Clarkston's role in immigrant and refugee mental health. Plz wish me luck.

Get familiar with this language guide for reporting on mental health and make sure your pitch includes appropriate language whenever possible.

MHJ Fellowships director Kari Cobham also put together this handy dandy checklist of protips for anyone interested in applying.
Other essential tips/reminders/links (!!)
If ya still have a specific question you'd rather ask me personally, email away. Good luck, all.
Love,
Fiza